Hey, Mom! Talking to My Mother #420 - Gene Wilder, RIP
Hi Mom, Someone else has died, and it's a sad loss.
It's funny (NOT funny ha ha) as I had just spotted a podcast with Umberto Eco that I wanted to share yesterday before I heard that Gene Wilder had died. I was thinking about all the people who had died this year, important people, like Eco, like Bowie, and Prince, and people important to me but less well known to the culture at large like Darwyn Cooke and Tony Philips and then Gene Wilder dies to you.
And you Mom. Because even though it's been over a year since your death, even though I can't think any more that a year ago on this day, you did X or Y, every time a significant person dies, I think of you. (And really, all people are significant but you know what I mean...)
I miss you, Mom.
Here's the litany of death just this year.
Hey Mom, #311 - Darwyn Cooke
Hey Mom #248 - People Keep Dying
Hey Mom #187 - Bowie Dies
Hey Mom #289 - Prince RIP
Republished from Boing Boing with due credit. See original post
HERE
.
Actor Gene Wilder dies at 83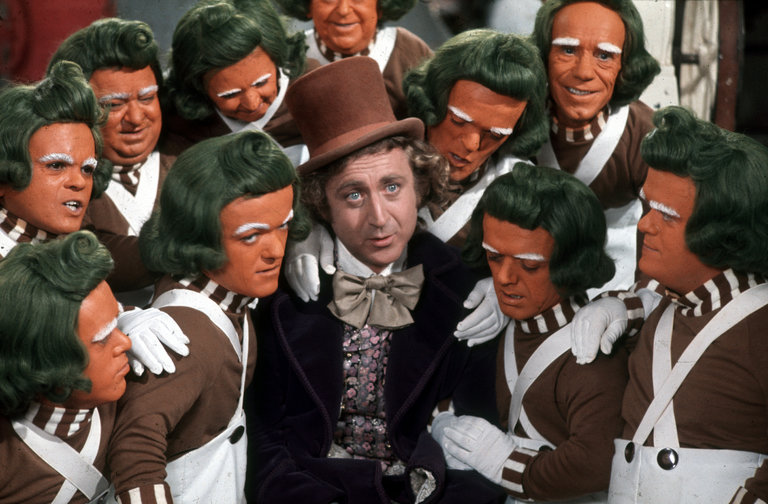 Eric Weissmann, who was Mr. Wilder's lawyer for many years, confirmed the death to the
New York Times
.
Many of the films for which Wilder will best be remembered were by the
legendary director Mel Brooks
, who acknowledged his longtime friend and collaborator in a tweet.
Variety reports
that Wilder died Monday at his home in Stamford, Connecticut. His nephew Jordan Walker-Pearlman said he died of complications from Alzheimer's disease.
From
Variety
:
The comic actor, who was twice Oscar nominated, for his role in "The Producers" and for co-penning "Young Frankenstein" with Mel Brooks, usually portrayed a neurotic who veered between total hysteria and dewy-eyed tenderness. "My quiet exterior used to be a mask for hysteria," he told Time magazine in 1970. "After seven years of analysis, it just became a habit."

Habit or not, he got a great deal of mileage out of his persona in the 1970s for directors like Mel Brooks and Woody Allen, leading to a few less successful stints behind the camera, the best of which was "The Woman in Red," co-starring then-wife Gilda Radner. Wilder was devastated by Radner's death from ovarian cancer in 1989 and worked only intermittently after that. He tried his hand briefly at a sitcom in 1994, "Something Wilder," and won an Emmy in 2003 for a guest role on "Will & Grace."
His nephew said in a statement,
"We understand for all the emotional and physical challenges this situation presented we have been among the lucky ones — this illness-pirate, unlike in so many cases, never stole his ability to recognize those that were closest to him, nor took command of his central-gentle-life affirming core personality. The decision to wait until this time to disclose his condition wasn't vanity, but more so that the countless young children that would smile or call out to him "there's Willy Wonka," would not have to be then exposed to an adult referencing illness or trouble and causing delight to travel to worry, disappointment or confusion. He simply couldn't bear the idea of one less smile in the world.

He continued to enjoy art, music, and kissing with his leading lady of the last twenty-five years, Karen. He danced down a church aisle at a wedding as parent of the groom and ring bearer, held countless afternoon movie western marathons and delighted in the the company of beloved ones."
Wilder had been diagnosed with non-Hodgkin's lymphoma in 1989.
In 1963, the Milwaukee native appeared on Broadway opposite Anne Bancroft in Jerome Robbins' Mother Courage and Her Children. The actress introduced Wilder to Brooks, her future husband, and the couple invited him to Fire Island, where he got a look at the first 30 pages of a screenplay titled Springtime for Hitler.

"Three years went by, never heard from [Brooks]," Wilder told Larry King in a 2002 interview. "I didn't get a telegram. I didn't get a telephone call. And I'm doing a play called Love on Broadway, matinee, taking off my makeup.

"Knock-knock on the door, I open the door. There's Mel. He said, 'You don't think I forgot, do you? We're going to do Springtime for Hitler. But I can't just cast you. You've got to meet [star] Zero [Mostel] first, tomorrow at 10 o'clock.'

"[The next day] the door opens. There's Mel. He says come on in. 'Z, this is Gene. Gene, this is Z. And I put out my hand tentatively. And Zero grabbed my hand, pulls me to him and kisses me on the lips. All my nervousness went away. And then we did the reading and I got the part. And everything was fine."

Springtime for Hitler, of course, would become The Producers (1968), written and directed by Brooks. For his portrayal of stressed-out accountant Leopold Bloom in his first major movie role, Wilder earned an Oscar nomination for best supporting actor.
THR and other obituaries note that Wilder was born June 11, 1933 in Milwaukee, Wisconsin, as Jerry Silberman. His dad was a Russian immigrant who imported and sold miniature beer and whiskey bottles. His mother had a heart attack when he was 6, leaving her severely disabled.
+++++++++++++++++++++++++++++++++++++++++++++++++++++++++++++++++++++++
+++++++++++++++++++++++++++++++++++++++++++++++++++++++++++++++++++++++
+++++++++++++++++++++++++++++++++++++++++++++++++++++++++++++++++++++++
Reflect and connect.
Have someone give you a kiss, and tell you that I love you.
I miss you so very much, Mom.
Talk to you tomorrow, Mom.
+++++++++++++++++++++++++++++++++++++++++++++++++++++++++++++++++++++++
+++++++++++++++++++++++++++++++++++++++++++++++++++++++++++++++++++++++
+++++++++++++++++++++++++++++++++++++++++++++++++++++++++++++++++++++++
- Days ago = 422 days ago
- Bloggery committed by chris tower - 1608.30 - 10:10
NOTE on time: When I post late, I had been posting at 7:10 a.m. because Google is on Pacific Time, and so this is really 10:10 EDT. However, it still shows up on the blog in Pacific time. So, I am going to start posting at 10:10 a.m. Pacific time, intending this to be 10:10 Eastern time. I know this only matters to me, and to you, Mom. But I am not going back and changing all the 7:10 a.m. times. But I will run this note for a while. Mom, you know that I am posting at 10:10 a.m. often because this is the time of your death.