Hey, Mom! Talking to My Mother #515 - All the SF novels you need to make it through the WINTER
Hi Mom, Looking to send me a Christmas gift from the grave?
Or to anyone looking to send me a Christmas gift? How about these. My reading list is already quite huge -- I will do another picture of books to read soon -- but how about these??
I have been reading Stross' Laundry Files books, so I am not quite finished with others and ready to read the most recent. Other than that, if any of these books are in a series, I need to dial back, otherwise, I am keen to read them all, like Jemisin's book. I need to dial back and
The Fifth Season
before I read
The Obelisk Gate
.
I am also keen to read Claire North's
Touch
and her
The Sudden Appearance of Hope.
I have heard good things about Marie Brennan's
Cold-Forged Flame
. I may tackle Alan Moore's
Jerusalem
next year. I need to get to John Twelve Hawks'
Spark
. And I am still working my way through books by new favorite authors like Marjorie Liu, Vernor Vinge, and Don DeLillo.
So much to read, so little time.
This article was originally presented here: at
ARS TECHNICA
.
All the science fiction and fantasy novels you need to make it through winter
Ten books that will help you escape the cold, the dark, and the apocalypse.
Up here in the Northern Hemisphere, it's the time of year when curling up with a book—or a stack of books—is pretty much mandatory. If you're wondering where to start, we've got a list of new novels from 2016 to help you escape and make you think strange new thoughts. Many of these are part of longer series, so you can come back for more and more and more.
This is the fifth standalone novel in Gladstone's utterly riveting Craft Sequence, a series about lawyers and financial experts in a world where magic takes the form of contractual obligations and market forces. Most of the gods in this world have been overthrown, but a few remain. Talented lawyer Tara Abernathy has to represent the interests of one whose creditors are trying to mount a hostile takeover of his church. Unfortunately, she already has her hands full trying to help a moon goddess recover control of her seized property, while her friends in the local police force are trying to stop a rash of demonic possessions. Smart, funny, and action-packed, this is fantasy writing for people who love politics and economics.
Because Gladstone is a complete weirdo, he decided to write this series out of order, so the first novel is actually the third, the second is actually the first, and so on. You can tell the actual order from the number in the title (so this is the fifth novel released, but it's fourth in the cycle). The good news is that you can read them in any order, because they stand on their own. Characters do recur, however, so if you want to encounter them in chronological order, feel free to start with Last First Snow and make your way up to Four Roads Cross.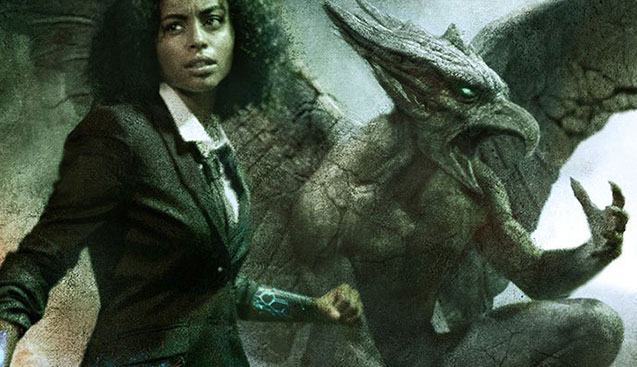 Whitehead is the award-winning author of a number of brilliant novels, including satirical zombie tale Zone One. Now he's turned to alternate history with The Underground Railroad, which tells the story of Cora, a slave who escapes her brutal masters in Georgia on a literal railroad that winds its way beneath the southern states and takes her on a Gulliver's Travels-style adventure through North Carolina, Illinois, and Tennessee. Though grim and often horrific, this novel is impossible to put down. Cora's flight reads like an intense thriller, intercut with deep dives into the characters who populate the antebellum South, from underground railroad workers and abolitionists to sadistic slave catchers and freemen who betray their escaped brothers. Whitehead refuses to give any easy answers, and he never lets his characters off the hook.
Earlier this year we gave a stellar review to Winters' novel, which ups the ante on alternate histories of American slavery by imagining that abolition never happened. Here, Lincoln was assassinated in 1861, the Civil War was never fought, and the US has taken a different path. As the novel opens, it's 2016, and four Southern states still practice slavery. Activists on the underground railroad are using airplanes to deliver slaves to freedom, and meanwhile, the United States is scarily similar to what it's like today.
Maybe you're just not ready to read heavy novels about the legacy of slavery in the US. Fair enough—luckily, Chambers' novel is perfect, delightful escapism to lift your spirits. It's the tale of a misfit Martian clerk who loves to file paperwork and is running from something tragic in her past. In fact, she's running so hard that she decides to change her name, leave her beloved home planet, and set out for the stars with a group of ragtag engineers and techs who are freelance tunnelers, people who punch wormholes in space for interstellar traffic. When they get offered a job working with a mysterious and warlike civilization, they go on a terrifying adventure to the core of the galaxy, finding love and cool spaceship hackers along the way.
With its adventurous tone and oddball characters (including a polyamorous lizard, a friendly AI, a many-legged chef/doctor, and two maniacal techs), this novel will remind you of the much-loved series
Firefly
. It's also just good, old-school space opera, which was so popular with online readers that Chambers got funding to finish it with a successful Kickstarter campaign. Chambers' standalone sequel,
A Closed and Common Orbit
, is also available for you to gobble up.
Recommending this novel is just a sneaky way of recommending that you read the entire Laundry Files series leading up to it. This latest tale is the seventh in Stross' ever-expanding universe about the Laundry, a secret organization devoted to preventing the apocalypse. That task is actually harder than you might think, given that computer scientists, data analysts, and other number-crunching weirdos are constantly dabbling in demonic sorcery just to do their jobs. Stross combines the intricacies of technology with magic, much the way Max Gladstone combines law with magic in his Craft series. The results are hilarious and inventive, especially if you're one of those people who spends all day conjuring beasts with a command line. You can begin with
The Nightmare Stacks
, the tale of a young vampire with tons of student loan debt who's been drafted into the ranks of the Laundry, or go right to the beginning of the series with
The Atrocity Archives
. Either way, you're in for a very diverting read.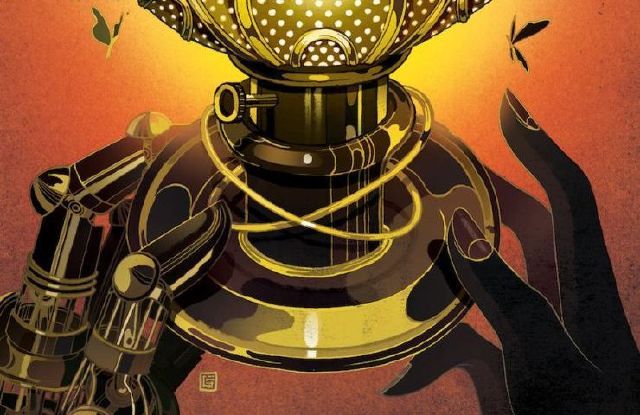 2016 was a good year for alternate histories, and Shawl's thought experiment about 19th century colonialism in Everfair is no exception. In this alternate reality, Fabian socialists in Britain manage to team up with African-American missionaries to buy part of the Belgian Congo from King Leopold II, establishing the free African nation of Everfair. Based on an actual historical plan that never came to fruition, the novel imagines how Everfair would develop, changing the history of other colonized African nations as its population swells with American former slaves and liberated peoples of the Congo. Though there is a strong Utopian core to the novel, Shawl does not shy away from depicting thorny, internecine battles between different groups who have opposing definitions of freedom. Plus, we get to see how Everfair develops breathtaking new technologies. Shawl has done incredible research on the history of the Congo, and it shows. This is steampunk done right, with all the tarnish, sweat, and blood visible on the gears of the world's great industrial technologies.
Revenger, by Alastair Reynolds
Reynolds is the beloved author of many brilliant, intense space opera series, including Revelation Space and Poseidon's Children. But Revenger is a standalone novel, set between the stars in what seems to be a post-apocalyptic universe. Surrounded by the remains of dead worlds, most people in the civilization known as the Congregation live like scavengers. They borrow and steal from intergalactic ruins, and sometimes they steal from each other. The story centers on two sisters who have fled from their overbearing father to find adventure on a scavenger ship. Unfortunately the ship is raided by Bosa Sennen, the most terrifying pirate in local space, known for leaving no survivors behind. Somehow both sisters make it through the attack, though one is left in Bosa Sennen's clutches. Arafura, the sister who escapes, vows to get her revenge and free her sibling. This sends her on a dark, action-packed quest, and it gives us a chance to see the end of days writ large. Nobody does worldbuilding like Reynolds, and it's a sheer joy to read this old-fashioned pirate story set in a fascinating astropolitical creation of unimaginable scope.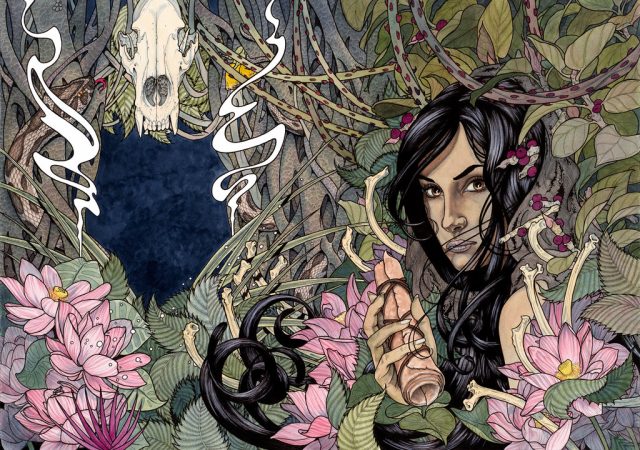 Critics have been
raving
about Das' horror-fantasy novel
The Devourers
for months now for good reason. Set in India, it's the tale of a professor named Alok whose life is changed after he meets a half-werewolf. But it's so much more than that. The half-werewolf gives Alok a set of manuscripts to transcribe, which turn out to be the story of a 17th century Indian shapeshifter and his brutal, obsessive relationship with a human woman. The manuscripts record their story from both perspectives, and they begin to transform Alok as he reads them, learning more about the two historical figures and their half-werewolf child. Like Alok, we're drawn into the manuscripts' emotional intensity but also into more philosophical questions of who gets to define what a "monster" is and what happens to offspring coming from two dramatically different worlds. This is one of those dreamy, gorgeous novels that pulls you into the story with the promise of an immersive fantasy, but it leaves you questioning your own reality. Violent, erotic, and unsparing,
The Devourers
will make you forget about
True Blood
and
Twilight
and reawaken you to the true power of monster stories.
Last year I recommended that you read the Hugo-winning
The Fifth Season
, the first novel in Jemison's Broken Earth series. I'm back to tell you to read the incredible sequel: set on a planet whose single mega-continent is being rent in two by megavolcanoes and earthquakes, this is geoscience fiction at its best. Our hero Essun is an orogene, a person who can control geophysics with her mind. She's also an outcast, like all orogenes, who must submit to government control or risk death. Using the power of orogeny was akin to magic in the first book, but in
The Obelisk Gate
we begin to realize that orogenes are likely connected to a fallen high-tech civilization that once controlled plate tectonics using huge, crystal Obelisks that orbit the planet. As volcanoes usher in an era of scarcity and conflict, Essun joins forces with a group of rogue orogenes. She's also trying to find her daughter, kidnapped by her husband when he discovered Essun's hidden powers in the last novel. Separated by a continent, mother and daughter cope with an increasingly hostile world, and we plumb the mysteries of how orogeny works. It's a disturbing tale of climate apocalypse but also an incredible exercise in using geology as the foundation for science fiction.
Le Guin is one of the 20th century's greatest science fiction writers, who has won pretty much every award you can win. Author of the beloved Earthsea series as well as game-changing novels like The Left Hand of Darkness and The Dispossessed, she has also written several novellas that will blow your mind. Here they're collected in one volume for your reading pleasure. This compilation includes tales of otherworldly exploration, alien sexual arrangements, and thoughtful treatments of soldiers recovering from PTSD years after interstellar war. Her prose is always deceptively plain, and her ideas quietly radical. If you've always been meaning to read this master of the genre, this collection is a great place to start.
+++++++++++++++++++++++++++++++++++++++++++++++++++++++++++++++++++++++
+++++++++++++++++++++++++++++++++++++++++++++++++++++++++++++++++++++++
+++++++++++++++++++++++++++++++++++++++++++++++++++++++++++++++++++++++
Reflect and connect.
Have someone give you a kiss, and tell you that I love you.
I miss you so very much, Mom.
Talk to you tomorrow, Mom.
+++++++++++++++++++++++++++++++++++++++++++++++++++++++++++++++++++++++
+++++++++++++++++++++++++++++++++++++++++++++++++++++++++++++++++++++++
+++++++++++++++++++++++++++++++++++++++++++++++++++++++++++++++++++++++
- Days ago = ## days ago
- Bloggery committed by chris tower - date - time
NOTE on time: When I post late, I had been posting at 7:10 a.m. because Google is on Pacific Time, and so this is really 10:10 EDT. However, it still shows up on the blog in Pacific time. So, I am going to start posting at 10:10 a.m. Pacific time, intending this to be 10:10 Eastern time. I know this only matters to me, and to you, Mom. But I am not going back and changing all the 7:10 a.m. times. But I will run this note for a while. Mom, you know that I am posting at 10:10 a.m. often because this is the time of your death.